The IHR Strengthening Project has worked in Nigeria formally since October 2018. Our activities are guided by the IHR Core Capacities, and Joint External Evaluation (JEE), and are closely aligned with country identified priorities, enabling us to provide technical expertise in the following thematic areas:
Laboratory Systems and Network
Chemical Events
Epidemiology and Disease Surveillance
Emergency, Preparedness, Resilience and Response
One Health and
Workforce capacity building
We work with national, regional and international partners and have a Memorandum of Understanding in place with the Nigeria Centre for Disease Control and Prevention (NCDC) as the IHR Focal Point for Nigeria.
Over the last couple of months with thanks to our partners, the UKHSA IHR Strengthening team embarked on a number of activities tied to each thematic area covered. Here's a highlight of our engaging and impactful work between Q1 – Q3 of 2022/2023 Financial Year.
Professional Development Support for Administration/Human Resource Workforce
In pursuance of one of the triple mandates of the IHR Strengthening Project - to strengthen technical capacity in-country - in collaboration with the Chartered Institute of Personnel Management of Nigeria (CIPM), we supported the professional development of the Administration/Human Resource workforce of the NCDC. This took place from 10th - 12th May 2022.
The methodology adopted a 5D (Diagnose, Design, Develop, Deliver and Drive) approach to guide the process of developing a bespoke capacity-building activity. The first 4-phases have been implemented with these being guided by high-level conversations and engagements including with the DirectorGeneral (DG) of NCDC.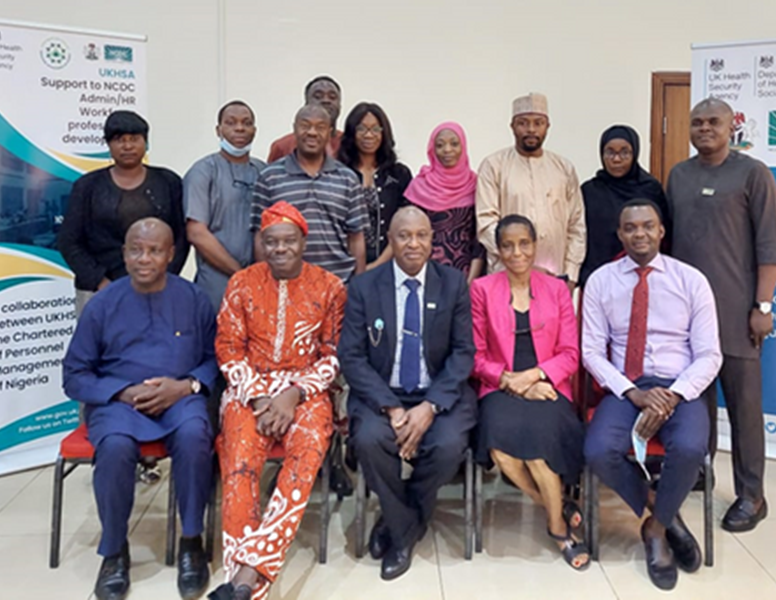 Further reading on this work:
Collaboration Between UKHSA and the Chartered Institute of Personnel Management of Nigeria (CIPM) to Support the Professional Development of the Administration/Human Resource Workforce at NCDC • IHR-SP (tghn.org)
Professional Development Workshop for the Admin/HR Workforce at NCDC • IHR-SP (tghn.org)
UKHSA Supporting the Sensitisation Forum for the NCDC Compulsory Confirmation and Promotion (COMPRO) Examination • IHR-SP (tghn.org)
One Health Planning Meeting
Our Country Lead – Dr Sola Aruna attended the National One Health Tripartite Joint Risk Assessment (JRA) Workshop from 23-24 June 2022 along with Dr Jerry Pantuvo, Technical Advisor Surveillance & Epidemiology. The aim of this workshop was to refresh the knowledge and skills of One Health stakeholders, build capacity to implement JRA and also conduct a JRA.

MPox Laboratory Training
The IHR Strengthening Project supported NCDC National Reference Laboratory (NRL) team and Africa CDC in the planning, development of training modules and implementation of MPox diagnostic training for African countries. The training was held on the 28th – 30th June 2022, for 20 African countries on sample collection and detection of MPox virus using real-time PCR testing.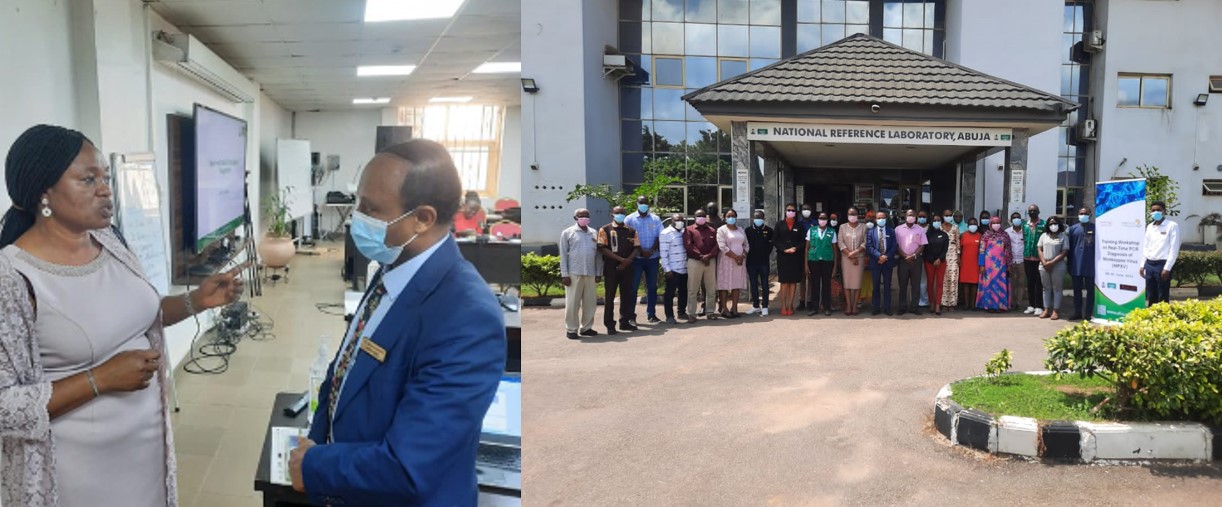 Integrated Training for Surveillance Officers in Nigeria (ITSON) Training
The NCDC in collaboration with the Federal Ministry of Health, IHR Strengthening Project and relevant partners organized an Integrated Training for Surveillance Officers in Nigeria (ITSON) from 27-30 June 2022. Dr Jerry Pantuvo, Technical Advisor Surveillance & Epidemiology facilitated training on cross-border surveillance, problem analysis and measles surveillance case study.
The objective of the training is to build capacity for training of front-line Surveillance Officers in Nigeria. This aligns with the capacity building and system strengthening objectives of IHR Strengthening Project, that aims to build country capacity to prevent, detect and respond to public health events of concern to Nigeria and those with the possibility of international spread.

Partner's Coordination meeting
Led by the Technical Adviser Laboratory, UKHSA attended the 2nd Quarter 2022 Partner's Coordination meeting of different laboratory stakeholders that are committed (technically and logistically) to the Federal Ministry of Health, , NCDC and other Ministries, Departments, and Agencies . The meeting organized by Medical Laboratory Services Division (MLSD) of the FMOH in collaboration with WHO, Nigeria was held from the 5th of July and to 7th July, 2022. The aim was to review and consolidate partners ongoing/planned lab activities to align support with the National Lab strategic plan.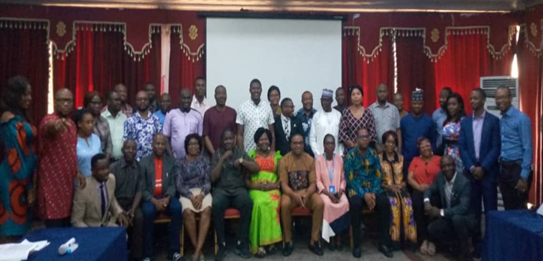 Implementation of Quality Improvement Project Training
We conducted a 3-day workshop on Implementation of Quality Improvement Projects at NCDC National Reference Laboratory Gaduwa, Abuja (from July 13th – 15th, 2022) and the Central Public Health Laboratory Yaba, Lagos (from 19th to 21st July 2022).
The training was aimed at improving NCDC laboratory staff skills in implementing quality improvement projects in line with International ISO15189 requirements as well as strengthening their technical capacity in use of quality indicators, selection and proper reporting of quality improvement and closing of gaps observed during an audit.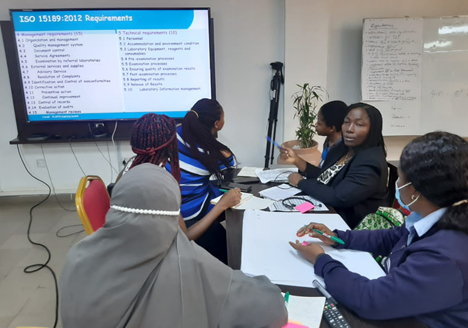 One Health Joint Risk Assessment Operational Tool Training the Trainer Workshop
On 26th July 2022, we supported a "Training the Trainer" workshop in Abuja Nigeria. One health stakeholders in key sectors were trained on how to cascade training in the use of the Tripartite Joint Risk Assessment (JRA) Operational Tool for threats at the animal-human-environmental interface to other key Stakeholders at National and State level.
This will enable the building up of the capacity and capability of conducting JRA by relevant stakeholders in Nigeria to provide decision makers with scientifically sound advice that can be used to inform risk management and communication policies for effective response to a zoonotic disease threat.

Training on Biosafety, Bio-Risk Management, and Inventory Management
The team conducted a 5-day training (from 25 – 29 July 2022) for staff working in NCDC National Reference Laboratory and others within its national network. Key expected outcomes include application of appropriate biosafety best practices at work, bio-risk management and proper inventory management of dangerous pathogens

Workshop on Internal Auditing ISO 15189
Our team led a 5-day workshop (from 8th - 12th August 2022) on ISO 15189 Internal Audit for laboratory scientists working in NCDC's lab campuses. This was aimed at increasing the pool of certified Internal auditors for continuous quality improvement within the lab campuses and its network towards achieving international Laboratory accreditation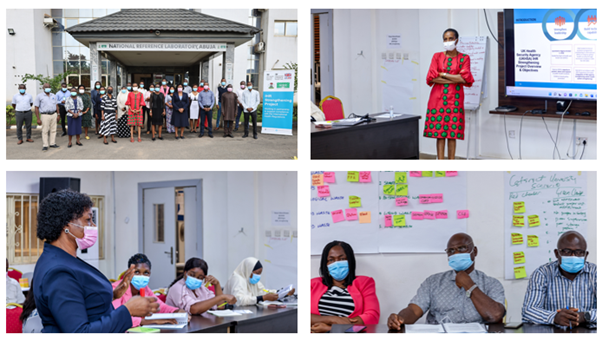 Laboratory Leadership Training for Resilient National Public Health Laboratories (Virtual series)
The Africa Centre for Disease Control and Prevention in collaboration with the IHR Strengthening Project, hosted a 6 virtual Laboratory leader's workshop for the resilient lab leaders a period for a period of 6 weeks. Delegates were from Ethiopia, Kenya, Uganda, Tanzania, Mozambique, Zambia, Zimbabwe, South Africa, Nigeria, Ghana, Angola, and Sierra Leone. Our team led by the Laboratory lead delivered presentations on ''Embedding quality into reference services'' – virtual session 2 and '' Clinical Governance and Healthcare Quality in Medical Laboratories'' – virtual session 6
Key focus was on:
The application of leadership skills on technical aspects of laboratory managements.
The application of shared experiences on laboratory technical subjects such as quality clinical governance and risk assessment.
Developing collaborative links with partner institutions within the Africa region under the guidance of the Africa CDC
National Stakeholders Meeting on Event-Based Surveillance (EBS)
A Event-Based Surveillance (EBS) workshop was held with the following objectives:
To intimate stakeholders on the plan to set up EBS at the Sub-national.
To elicit greater involvement of stakeholders and get their buy in setting up of EBS at the sub-national for sustainability.
Secure the engagement of stakeholders in the implementation and monitoring phases of the project.
At the end of the meeting the next steps were agreed on and it included the conduct of a readiness assessments of states for event-based surveillance. This assessment has been conducted and a report developed. Procurement of equipment is what is delaying the implementation of EBS in the first 12 states.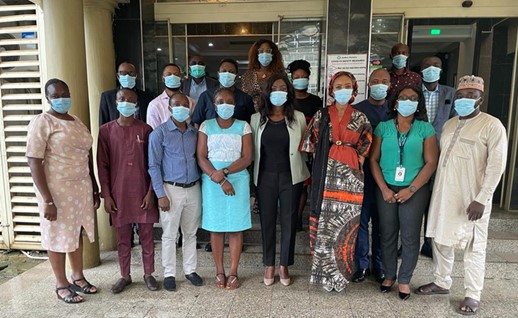 Biosafety Cabinet Maintenance Workshop
In the 3rd week of September 2022, the team held a 3-day training on proper use and care of the Biosafety Cabinet and other ancillary equipment for the NCDC Laboratory network. Participants were trained on operational principles, routine maintenance and decontamination procedures for Biosafety Cabinet.

Annual Management Review Meeting
In the last week of November and first week of December 2022, the team led and facilitate Annual Management Review Meeting for the year 2022 activities. The aim was to evaluate the laboratory's performance regarding quality management system implementation and continuing suitability, adequacy and effectiveness in it's support to patient care.

R for Epidemiological Analysis
One of our areas of work is capacity development, through the use of Data Analytic tools to drive better decision making, and advocacy. From 29th November to 3rd December 2022, we collaborated with The London School of Hygiene and Tropical Medicine, UK Public Health Rapid Response Team and WHO Nigeria to support NCDC in conducting a training on "R for Epidemiological Analysis". This training will strengthen the capacity of NCDC Epidemiologists to analyse large surveillance data sets in a flexible way to support decision making and needed feedback.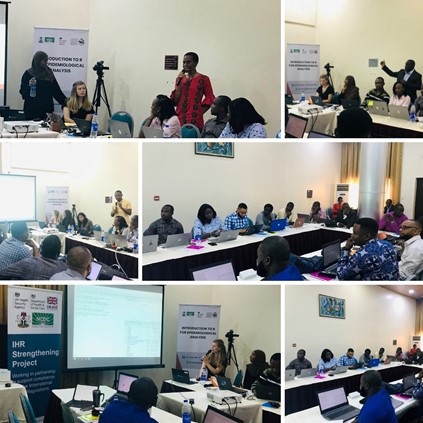 Concluding with some reflections
Within Q1- Q3, the focus was to build the capacity and ability of the HR workforce of the NCDC. There was also a focus on developing policies for the organisation as well as designing, developing and implementing a workforce analytical outlook on succession planning, workforce gap analysis for the admin/HR, workspace gap analysis, promotion examination and other requests made by the DG, NCDC for organisational development. The focus was also on strengthening the capacity of NCDC to improve on the utilization of epidemiological data for decision making through various trainings on data analysis.
In the coming year, there will be a continuation of professional development of the NCDC Admin/HR department, development of the capabilities of the NCDC workforce across departments on public service administration, expand the scope to include HR Business partners in the professional development of the HR & Admin workforce, conduct a workforce gap analysis for the organisation and collaborate with workforce team across the IHR SP on mentoring for the NCDC workforce. Lastly, support the conduct and delivery of the promotional examination of the Agency.
There would also be a focus is on building capacity to lead the national surveillance system in such a way that empowers the subnational level to acquire capacity to independently run their own surveillance systems. This will be achieved through peer-to-peer mentorship, building capacity for monitoring, evaluation, and learning, and working closely with the subnational levels and the laboratory to achieve a truly integrated surveillance system through a one-health approach.
The laboratory focus was to strengthen the capacity of the national Reference laboratory to ensure high quality delivery of diagnostic services. UKHSA continued to support NCDC NRL and CPHL in strengthening Laboratory governance and implementation of Laboratory Quality Management Systems (QMS) towards ISO15189: 2012 accreditation through SLMTA since 2018. With a remarkable improvement and effort put in through team supervision and funding support in training, document printing, mentorship and staff hours. The focus in the coming year will target Laboratory accreditation and renewal of effort for the new ISO standard -ISO 15189 -2022. Team will focus on Biorisk management and improving Laboratory Leadership capacity. Fresh attention will be geared towards Tiered Laboratory support at the sub-national including strong diagnostic network.
By the IHR Strengthening Nigeria Team