KEY ACHIEVEMENTS | BACKGROUND | PRACTICE DEVELOPMENT | MEASURING IMPACT | KEY LEARNINGS

---
Key achievements
Collaboration between the IHR Strengthening Project and The Chartered Institute of Personnel Management of Nigeria (CIPM) to support the professional development of the administration/human resource workforce of the Nigeria Centre for Disease Control

Adopting a 5D (Diagnose, Design, Develop, Deliver and Drive) methodological approach to develop bespoke capacity-building activities
Part of the larger ongoing project to deliver a bespoke learning intervention for the Admin/HR personnel at NCDC
Background
In pursuance of one of the triple mandates of the UKHSA IHR Strengthening Project (IHR-SP), to strengthen technical capacity in-country, the IHR-SP in collaboration with the Chartered Institute of Personnel Management of Nigeria (CIPM), supported the professional development of the administration/human resource workforce of the Nigeria Centre for Disease Control (NCDC). This is the first of its kind in the IHR-SP learning interventions with the Administration/Human Resource department of the NCDC.
Practice Development
The CIPM which is regarded as the Apex Human Resource Professional regulatory organisation in Nigeria and built along the lines of the United Kingdom's Chartered Institute of Personnel, Development (CIPD) adopted a 5D (Diagnose, Design, Develop, Deliver and Drive) methodological approach to guide the process for developing a bespoke capacity-building activity. The first 4-phases have been implemented, guided by high-level conversations and engagements including with the Director-General (DG) of the NCDC.
Training modules were formulated for the 'Delivery' phase of the exercise, based on the request of the DG to improve the strategic functioning of the department, focused on specific deliverables, and expected outcomes that would assist participants in HR strategic partnering. These were delivered 10 – 12 May 2022.
The trainers/facilitators focused on the following:
(Day 1)
Overview of NCDC as an organisation (vision, mission and values).
Roadmap to strategic HR partnering in NCDC.
Strategic HR Partnering across the value chain (principles, processes and practices).
(Day 2)
Aligning HR practices to the strategic goals of NCDC.
HR formulation and implementation in NCDC
Career and succession planning in the NCDC
(Day 3)
Performance management
Identifying Key Result Areas (KRAs)
Formulating SMART(ER) objectives
Performance monitoring
Employee performance appraisals.
Measuring Impact
Practical sessions were conducted with the aim of ensuring that participants could relate content to their daily activities. The DG of NCDC paid a courtesy visit and implored participants to leverage the exercise to improve their skills.
To conclude the workshop, SMART tasks were assigned to each participant as part of the "evaluation intervention" module to ensure they put into practice the interventions in their roles, formulating strategic objectives from the activities to be in alignment with the NCDC overarching goals.
Key Learnings
The workshop was incredibly successful, with the DG of NCDC addressing the participants on the final day, thanking CIPM for their input and to UKHSA for responding to the organisations expressed needs. This work has contributed to the larger ongoing project to deliver a bespoke learning intervention for the Admin/HR personnel at NCDC.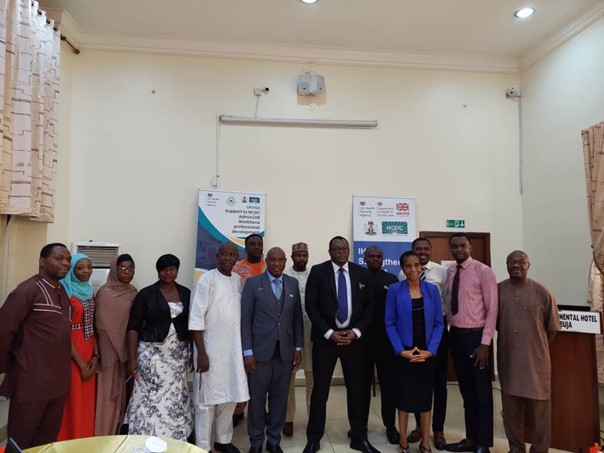 By Paul Irabor