KEY ACHIEVEMENTS | BACKGROUND | PRACTICE DEVELOPMENT | RESULTS | NEXT STEPS
---
Key achievements
Background
Emergency Preparedness and Response is one of five functional pillars of the Africa CDC strategic plan 2017-20211. Within this pillar is a commitment to: providing capacity building to Member States; training the emergency workforce; and supporting the development of surge capacity at national, regional and continental levels. In an Assembly Decision AU/Dec.570 (XXV) of June 2015, the AU Heads of State and Government, passed a decision for establishment of an African Volunteer Health Corps (AVoHC) to support rapid and efficient response to disease outbreaks and other public health threats on the continent when deployment of a multidisciplinary team is required. Through this mandate, Africa CDC is coordinating and managing deployments of AVoHC staff for initial response and rapid assessment during crises and epidemics in Africa Union Member States.
In its support of this work, the project's aim was to develop an interactive online directory of rapid response personnel and teams, to assess and improve capacity for emergency response. This would be a secure database with individual and team-level profiles hosted on the internet with access through a web browser. Information collected would include cadre, place of work, education, training and skills. Individuals and teams would be able to populate their profiles and view and update their personal data securely. This would therefore provide Member States with a tool to track their current and past rapid response workforce and to identify personnel for surge capacity. Aggregate reports would allow assessment of workforce capacity and support the development of standards and indicators. This information would improve understanding and synergy between Member States and partners that mobilise emergency responders, and encourage uniformity, universality and exchange.
Practice development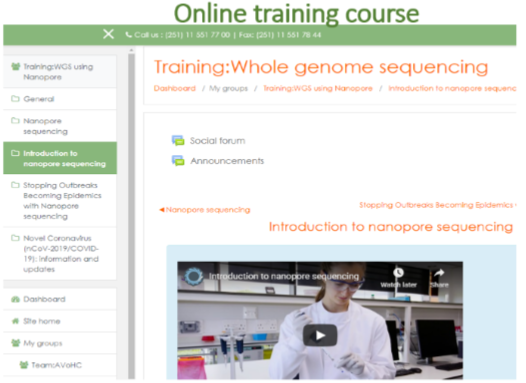 As part of PHE's IHR Strengthening Project, a website developer was recruited, and a project team established to deliver on the agreed objectives. Working closely with Africa CDC stakeholders adhered to Agile project management principles to support flexible and incremental delivery. First the team commenced discovery phase by conducting user needs assessments and created specifications for the online platform. As part of this process, the team prioritised key features identified by users for inclusion into the design specification. The team successfully collaborated with stakeholders to produce a proof of concept (entering the alpha phase), then updated and re-publish to the changes to in line with stakeholder feedback analytics and ongoing user research as part of the beta phase. Upon finalisation of the finished product the PHE team delivered training and handover to ensure long term embedding and maintenance of this resource in the long term.


Results
The platform is called AVoHC Net and was formally launched in September 2020. It is hosted on AU servers and accessible through a web browser https://avohc.africacdc.org/. The platform supports, fully customisable user profiles, advertising and expressions of interest for deployment opportunities and team management. The platform provides a basis for collaboration between Member States through Africa CDC and because it is open source can also be made freely available to Member States for managing their own rapid response teams. AVoHC Net has been commended by Dr John Nkengasong, Director of Africa CDC, who has said, "With AVoHC Net, Africa CDC will be in a better position to provide targeted workforce development support for public health emergencies as an integral part of the health systems strengthening agenda for Africa"
Next steps
The first phase of roll-out has been completed for Africa CDC and the AVoHC Roster Members, with support from PHE. This has helped provide immediate benefits for managing and co-ordinating COVID-19 deployments. The second phase of roll out is for Member States, who will be invited to set up their own institutional profiles. There will be different degrees of adoption by Member States depending on their existing systems. All Member States will be able to identify any AVoHC Roster Members registered to their Institutions and will be invited to register their Rapid Response Teams (RRTs). Some Member States may also wish the system for their own national RRTs. Impact will be measured through uptake and use by Africa CDC, incorporation into standard operating procedures, and registration and use by Roster Members. PHE will continue to offer ongoing support and guidance.
---
KEY ACHIEVEMENTS | BACKGROUND | PRACTICE DEVELOPMENT | RESULTS | NEXT STEPS