30/03/2021
The International Health Regulations (IHR) Strengthening Project team is proud to support women in health and science. The project is committed to gender equity as part of our principles of working and have implemented a number of measures to further this. Together with our partner public health institutions and in celebration of International Women's Day 2021, we would like to recognise the achievements of inspirational women in health leadership, including IHR Project Lead, Dr Ebere Okereke, who has been recognised by two organisations for her contributions in science and academic medicine.
UK Government Science & Engineering Award
In February, Ebere won the UK Government Science & Engineering profession's Inspirational Scientists and Engineers Award.
The Government Science and Engineering profession, championed by Patrick Vallance, includes scientists and engineers across the Civil Service. Ebere is one of over 2,200 scientists and engineers working at PHE, who have made a measurable impact to the population's health.
Ebere worked as a consultant in communicable diseases in the Health Protection Agency since 2001, transferring to PHE when it was created in 2013. She then worked in the Emerging Infections and Zoonoses team, and in 2017 she was appointed to lead the design and implementation of the Department for Health and Social Care IHR Strengthening Project, within PHE's Global Public Health division. Ebere also currently sits on the steering group of PHE's Black, Asian and Minority Ethnic (BAME) Network.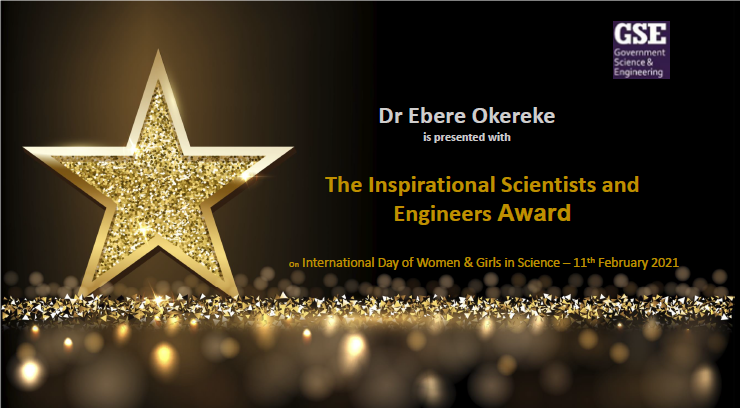 On being recognised, Ebere said:
"I was surprised because I do not see myself as special, I just do my job to the best of my ability. It helps that I love what I do and that I am supported and surrounded by colleagues who are equally committed to improving health globally, and to championing diversity everywhere. My win represents everyone else who works towards the same goals – a healthier fairer world."
PHE Director of Global Public Health, Neil Squires, who nominated Ebere for the award, said:
"Ebere has developed and led a programme to strengthen disease control systems in six countries across Africa and Asia, building strong links with regional and global organisations. She is a champion for equity, diversity and inclusion and an important voice and role model for BAME staff at PHE."
Ebere says she has been really surprised by the reaction to her win, "I have absolutely been stunned by the response. I have received congratulatory messages from across PHE and beyond, by colleagues who see themselves represented by me, and this is why I continue to be an advocate for diversity, equity and inclusion for the BAME colleagues across PHE."
British Medical Association's Women in Academic Medicine
Ebere was also recognised by the British Medical Association's Women in Academic Medicine (WAM) Group and included in their book of inspirational women to celebrate International Women's Day 2021.
The book – which spotlights 15 women from across the academic medical sphere – celebrates achievements, career highs, great advice and opportunities. It offers readers an insight into the diverse and exciting world of medical academia and importantly, each of the women highlighted have been nominated by one or more of their colleagues and mentees.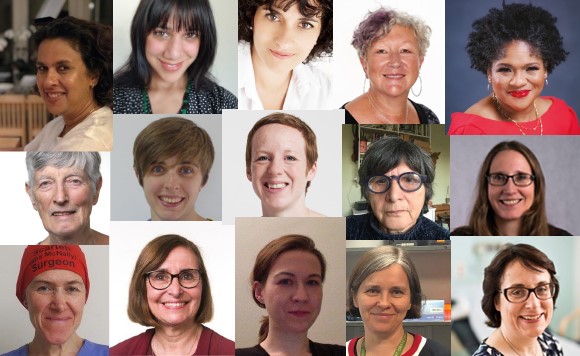 Source: Celebrating women in academic medicine, https://www.bma.org.uk/womenrolemodels
The publication of the book has been a long time in the planning. In 2008, the BMA published a report about women in academic medicine which listed a number of recommendations to encourage more women to join. These recommendations included encouraging role models, networking and opportunities for mentoring. As the introduction of the new book says, "You can't be what you can't see" and the WAM group hope that this is another step in opening up this world to as many people as possible.
The book from BMA can be accessed here.
International Women's Day 2021
Finally, as part of International Women's Day 2021, the Project team celebrated some of the phenomenal women we work with through our international partnerships. The women highlighted, including Dr Shaheen Afridi from the Khyber Pakhtunkhwa Health Department, Pakistan and Yewande Alimi from Africa Centres for Disease Control and Prevention have made significant contributions to public health and are paving the way for women in the field.
See the full Twitter thread here.
Africa CDC: #IHR_Strengthening Project celebrates Yewande Alimi, @Wande_A AMR Programme Coordinator on #IWD2021 for leading the development of AMR Framework for @AfricaCDC pic.twitter.com/8IKCMA7lai

— Dr Ebere Okereke (@DrEmeruemJnr) March 5, 2021