KEY ACHIEVEMENTS | BACKGROUND | RESULTS | KEY RESULTS
---
Key achievements
Delivery of public health workforce strategy and development plan in collaboration with the Ministry of Health and Sanitation (MoHS)
Input towards implementation of the Sierra Leone National Action Plan for Health Security (NAPHS)
Background
Workforce strategy development
Following the Joint External Evaluation (JEE) and implementation of the National Action Plan for Health Security (NAPHS), the Government of Sierra Leone reviewed documentation of the progress of the NAPHS, from 11 to 15 March 2019, and successfully launched this in September 2019 (figure 1). The report listed workforce development (lack of career pathways) as a key challenge to development of a sustainable national public health system. As a result of this the IHR Strengthening Project developed a workforce development roadmap (figure 2). The roadmap activities included a workforce analysis, identifying gaps between current and future desired state, and recommendations to bridge the gaps (build, burrow, buy, and bind), all aligned with the Ministry of Health and Sanitation human resources strategy, for the development of a future NPHI. Working with the MoHS colleagues, the IHR team used the IANPHI staged development tool as a maturity model to guide discussion on workforce planning for a future NPHI. To encourage national and international stakeholder buy in the IHR Project team planned a launch of the strategy, where stakeholders would be encouraged to plan the next stages for implementation and delivery of this strategy.
Results
Results have included successful engagement with the national laboratory technical working group in December 2019, where the action plan for SLPMA has been disseminated with stakeholder for their input and collaboration, successful procurement of supplies for SLPMA and co-facilitation and delivery of laboratory leaders training, which included participants from other IHR partner countries including Nigeria and Zambia. Following the COVID outbreak in Sierra Leone, the senior laboratory manager had also been able to provide remote input towards the development of the QMS SOPs. The IHR Project successfully launched the Workforce Development roadmap in May of 2019, during an official launch event in Freetown. This event was attended by senior HR representatives from the MoHS, the KSLP, US Centre for Disease Control, and UK Department for International Development (DfID). This was well received by participants and the IHR Project's approach to workforce development in Sierra Leone shared with IANPHI.
Key Learning
In-country presence is essential to building trust and strong relations with the government and partners, as agency visibility through active participation is necessary in achieving public health goals. Another key lesson is that soft diplomacy is essential but insufficient to achieve long lasting impact in public health over the short term. Ultimately ownership lies with partner organisations, PHE can provide expertise, challenge and resource but does not hold the authority to impose solutions. Another key lesson is that any plans or strategies created should always be delivered in alignment with other key national strategies, to avoid duplication.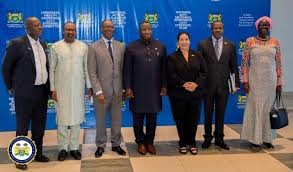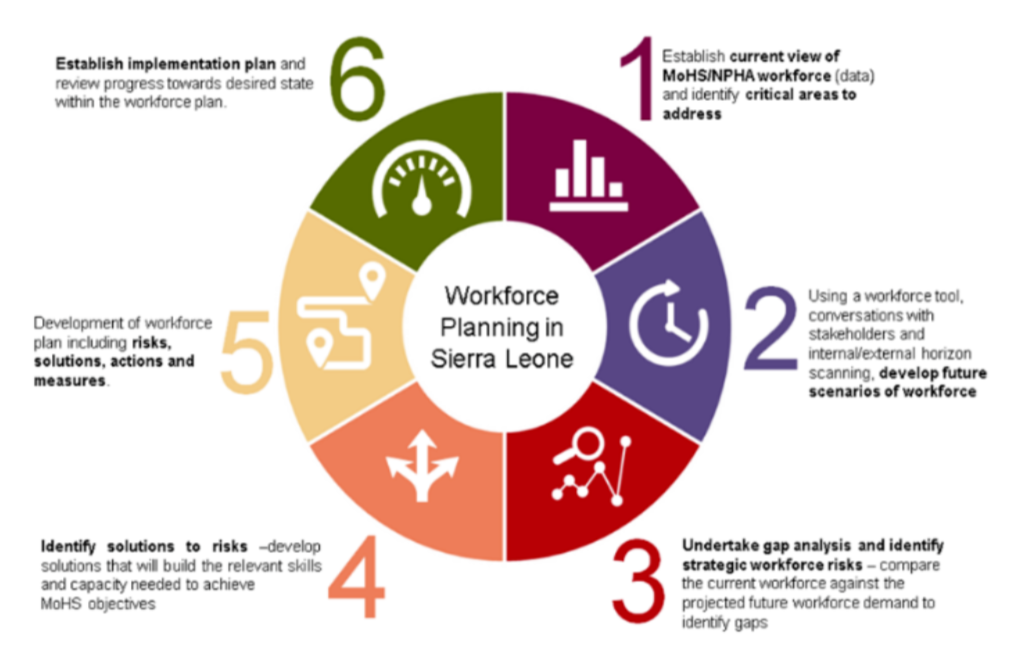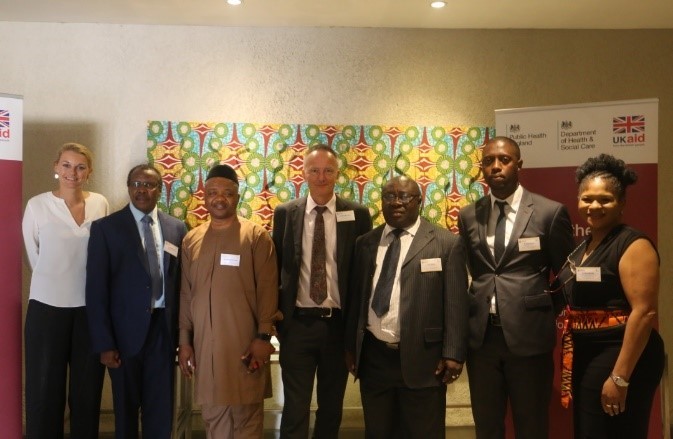 Figure 6 (a) - photo of attendees as NAPHS launch event in held in Freetown in September 2019, (b) PHE workforce planning and tool shared with MoHS and (c) photo of participants at the Workforce Development Launch event in May 2019
---