Laboratory diagnosis of Diphtheria and Pertussis in Nigeria is limited, the lack of expertise within this specialized area of laboratory diagnostics has considerable public health implications, particularly since toxigenic strains persist and clinical cases and sporadic outbreaks continue to occur in Nigeria; a recent outbreak was reported in the southwest region of Nigeria in December 2022.
Between the 16th and 20th of January 2023 a workshop was held at the Nigeria Centre for Disease Control (NCDC) laboratories in Abuja supporting the step-down delivery of laboratory diagnostics of diphtheria to key regional laboratories in the country.
Training covered a combination of technical and practical modules. Technical subjects included an overview of the epidemiology of diphtheria in Nigeria; the basics of Laboratory Risk Assessments, Quality Management Systems, and Journal appraisals. The practical sessions covered the isolation of diphtheria isolates from clinical samples using conventional microbiological methods; the workshops concluded with workplan discussions for implementation of the training in regional laboratories. Building a diphtheria network of laboratories was also discussed in line with NCDC strategic plans.
The training was incredibly successful, with excellent feedback from participants that the objectives of the workshop were fully met and that they will be using this training and will be training others.
Regional laboratories will now be able to detect diphtheria from clinical samples, and this will be measured by:
Successful participation of network labs in External Quality Assessment (EQA) of these pathogens within 1 year of training. In the absence of EQA, labs can demonstrate competency by useful participation in Proficiency testing or Inter-lab comparison schemes
Generation of Standard Operating Procedure (SOP) and Quality Control procedures for all participating labs within 6-12 months post training
Successful confirmation of diphtheria strains by the reference labs Generation and sharing of surveillance data through publication of epidemiology/surveillance report locally and in a peer reviewed journal within 12-18 months based on current diagnostic burden
Since the completion of the workshop, participants have carried out further training to their staff at Lagos University Teaching Hospital and University of Calabar Teaching Hospital, resulting in capacity building within the participating labs.
A diphtheria laboratory network has since been initiated with the team at NCDC taking the lead to building this community of scientists equipped to support the rapid diagnosis of diphtheria in Nigeria, share best practices and resources.
Further work on diphtheria continues in Nigeria, with further laboratories in the high incidence area receiving further training to cover a larger landscape in Nigeria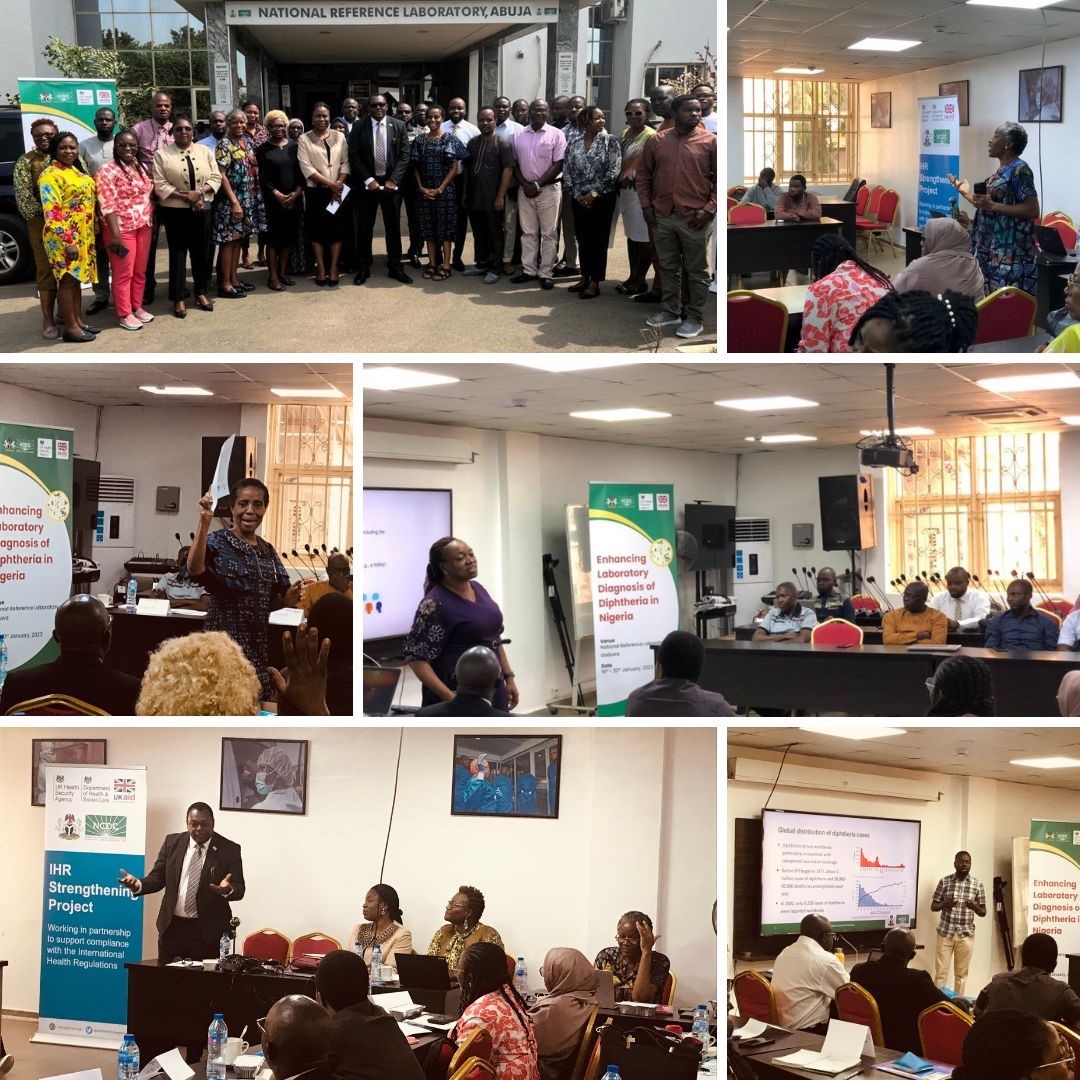 "A very big thank you to the UKHSA team. It's been a great pleasure working with you. Looking forward to achieving a lot more together with your continuous support."
Mrs Babatunde (NCDC laboratory director)
"Many thanks to you and the UKHSA team at home and at large for the continuing support for our diphtheria work."
Dr Adetifa (NCDC Director General)
By Adebisi Ajileye