14/03/2019
At the end of February, a group of ten Pakistani public health officials visited some of our different PHE sites, as part of joint study to strengthen collaboration between PHE and Pakistan's public health institutes. PHE colleagues based in Pakistan also attended, including Dr Anne Wilson, the Programme Lead for Pakistan IDSR and Dr Muhammad Asif Khan, a Health Adviser.
The visit was facilitated through PHE's International Health Regulations Strengthening Project.
As part of their visit to our Colindale site, the officials visited a number of different departments such as Gastrointestinal Infections – Reference Microbiology and Surveillance, National Surveillance of Antimicrobial Infections and the WHO National Influenza Centre and national influenza surveillance.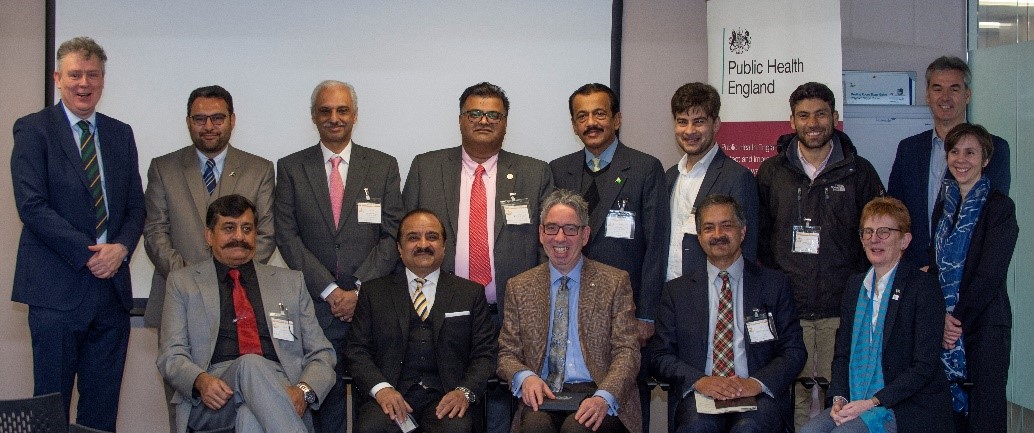 Gwyn Morris, Head of Business Operations for T.A.R.G.E.T (now NIS Head of EU Exit Preparedness and Response) commented "the delegates were impressed with the surveillance and response capabilities of our teams in Colindale. Both sides were interested in how our two countries do business based on the different threats we face and the resources we each have available. Our relationship with Pakistan's Public Health is so important, I hope to see more exchanges like this in the future."
In December last year, Duncan Selbie and Richard Gleave conducted a successful visit to Pakistan to reinforce PHE's commitment to the long-term partnership with the nation's public health institutions. They met with the new Federal Minister of Health and re-emphasised PHE's continued commitment to sit alongside Pakistan's public health colleagues and provide technical advice to progressing IDSR System Strengthening and other IHR areas.