23/06/2021
Find out about how the IHR Project is collaborating with Africa CDC on the Kofi Annan Programme.
On 12 April, the African Centre for Disease Control and Prevention in partnership with the Kofi Annan Foundation, launched the Global Health Leaders Programme (KA GHLP). The aim of this programme is to support the next generation of aspirational public health leaders (Fellows) from Africa in acquiring advanced skills and competencies to strategise, manage and lead public health programmes that will transform public health in Africa. The inaugural programme was launched with 20 fellows representing 14 African Union (AU) Member States across all five AU regions. "Public health is interconnected with politics, policy and diplomacy, hence the need to create a whole generation of public health experts and leaders", said Dr John Nkengasong, Director of Africa CDC.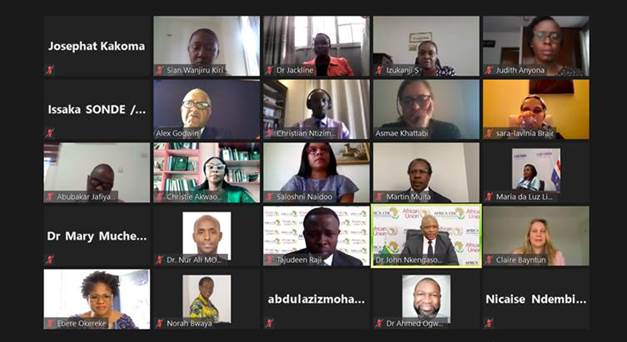 Screenshot of participants from the launch event in April 2021
PHE have contributed to the design and governance of the KA GHLP following the success of the IWD Leadership Development Programme for Leaders of National Public Health Institutes, as part of the International Health Regulations Strengthening (IHR) Project.
Mentoring of Fellows is a key component of the programme as it is essential for the development of leadership skills and is being led by Coach Africa. PHE are also providing input on key components of the mentoring scheme including M&E.
Fellow's from the programme will be mentored by a cohort of world class public health experts. This includes key personnel from Emory University, the National Public Health Institute of Mozambique, WHO AFRO, Africa CDC and the National Institute for Communicable Diseases South Africa. PHE's technical input is being led by PHE's Senior Health Advisor for Africa CDC and the IHR workforce development team; the mentoring component, is expected to start in July 2021 and run until March 2022.
For more information on the Kofi Annan Global Health Leadership Programme and the Fellowship in Public Health Leadership Program, please visit: Kofi Annan Fellowship in Public Health Leadership Programme.