24/01/2020
John Forde, International Health Regulations (IHR) Strengthening Project Country Lead and Senior Public Health Adviser in Ethiopia, has been presented with the inaugural Temrt (ጥምረት) award by Alastair McPhail, British Ambassador to Ethiopia and Permanent Representative to the African Union.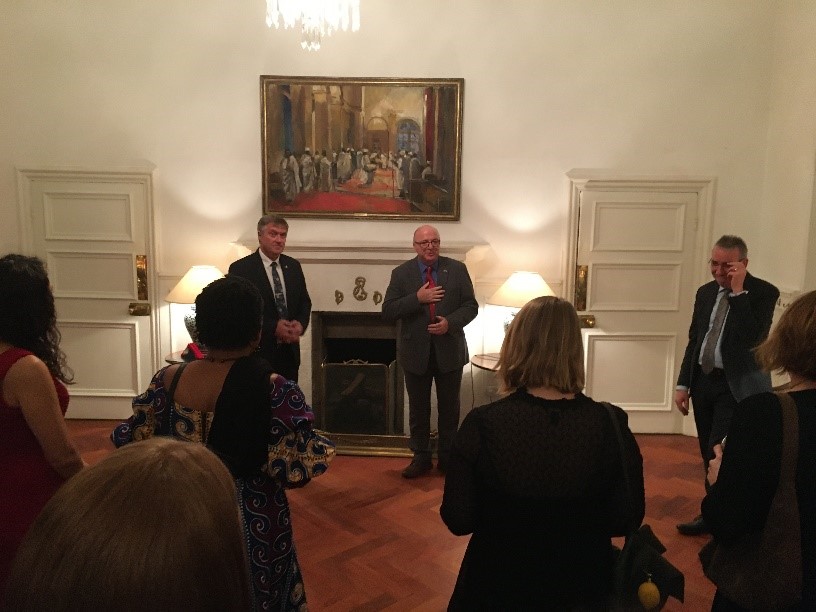 The concept of Temrt (ጥምረት), an Amharic word that means 'union', was introduced to the British Embassy, Addis Ababa, by the ambassador last year, as part of his vision to promote collaboration and partnership across the different government departments. It's part of the 'One HMG [Her Majesty's Government] Overseas' agenda, which aims to make joint working easier to deliver the UK's objectives overseas.
In winning this award, John was recognised as demonstrating excellence in leading the One HMG global health security sub-shift under the 'New Approach to Africa' Strategy and contributing to the Culture Club, a steering group focusing on organisational culture across the Embassy.
John has been in post for 18 months and PHE is one of the newest partners across government to join the platform in Ethiopia, so the award is an excellent achievement for John and the whole of PHE.
Duncan Selbie said the award was: "of singular credit to John and his excellence as a team player…"
Ethiopia is one of six countries working in partnership with PHE through the International Health Regulations (IHR) Strengthening Project. The project aims to enhance global health security, by supporting international and regional institutions to strengthen their capability and capacity to comply with the World Health Organization International Health Regulations (2005).
Congratulations to John and the wider IHR team for receiving this fantastic award.