UKHSA's IHR Strengthening Project in collaboration with the Zambia National Public Health Institute (ZNPHI) EPR cluster and the Ministry of Health (MOH) conducted an Incident Management System (IMS) Training for subnational level staff from 6th-8th March 2023 in Chipata, Eastern Province.
40 participants from Lusangazi, Katete and Petauke districts attended the training. These districts were selected as none had previously received IMS training. They are also located in flood-prone areas, and either had ongoing cholera outbreaks or share borders with Mozambique which has been experiencing a cholera outbreak since 2022.
The Provincial Health Director Dr Mathews Ng'ambi, stated that the Province appreciated the support by UKHSA in IMS training, which was timely as the province was experiencing cholera outbreaks in 4 districts and their capacity to respond was limited by inadequate numbers of personnel trained in IMS and management of public health emergencies.
The main objective of the training was to equip response personnel at the district health offices and health facilities with knowledge on foundational IMS principles and key functional roles to improve cholera preparedness and response.
The participants were taken through management of public health events, principles of IMS, developing an Incident Action Plan, writing a Situation Report, and emergency preparedness for Cholera. The training then culminated in table-top exercises were participants had an opportunity to apply what they had learned.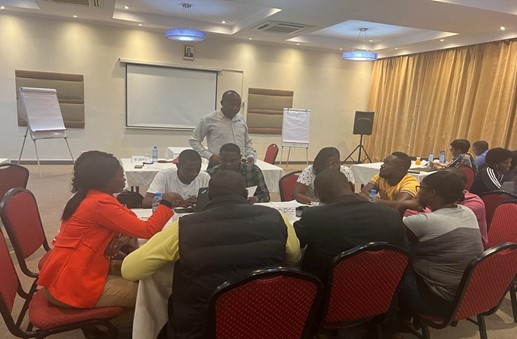 All participants during evaluation agreed that the training was well delivered, and objectives clearly explained
Some of the barriers highlighted that may impact ability to apply learning were inadequate resources such as transport, equipment, logistics; inadequate trained health personnel and stakeholders in IMS who may not understand the concept and easily accept their roles and responsibilities. The participants therefore requested for more personnel at health facilities, district health offices and multi sectoral stakeholders to be trained in IMS
"I will use the knowledge acquired from the training to activate the IMS in my district, formulate the incident action plan and be able to give a summarized situational report".
Dr Riches Siabbwalo, District Health Director Lusangazi

By Dr Dingase Mvula