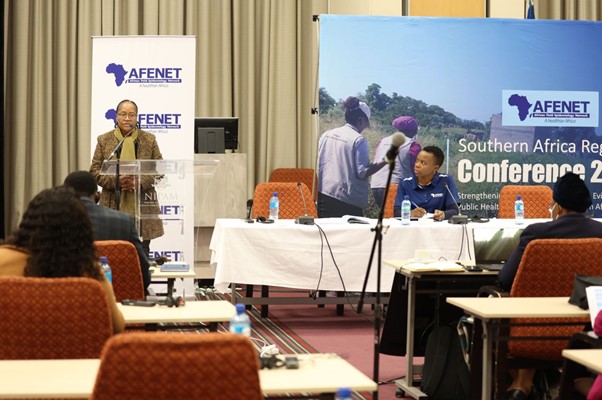 The Africa Field Epidemiology Network (AFENET) hosted the 2022 Southern Africa regional Field Epidemiology Training Programme (FETP) conference from August 3 to 5 2022 in Windhoek Namibia. The theme for the conference was "Strengthening Health Security through Evidence-Based Public Health Interventions in Southern Africa and beyond". Mrs Carol Mufana from the IHR Strengthening Zambia team and FETP residents from our partner organisation ZNPHI attended.
The conference provided a platform FETP students and graduates to showcase their work over the past several years with a particular focus on Covid-19 and public health disasters. The conference showcased a total of 93 oral and poster presentations of work done by FETP students and graduates across several African countries such as Zambia, Namibia, South Africa, Mozambique, Angola, Zimbabwe, Uganda, Lesotho, Eswatini, Ethiopia and Nigeria. The conference was a great opportunity for inter-country learning among FETP participants from all the countries present and demonstrated the need to have adequate numbers of appropriately skilled field epidemiologists in Africa even more.
With the IHR Strengthening Project and ZNPHI's strong focus on strengthening FETP in Zambia and the Southern Africa region going forward, the conference presented an opportunity to meet and create working relationships with other FETP coordinators in the region. Moreover, ZNPHI hosts the Africa Centres for Disease Control and Prevention (Africa CDC) Southern Africa Regional Collaborating Centre (RCC) and the Institute continues to fundraise for activities that focus on strengthening the various aspects of NPHIs in the Southern African region, including workforce development.
As a follow up to the conference and to aid future regional work, a database of contact details for representatives of the six countries with which working relationships were created during the conference will be formulated and shared internally and with ZNPHI.