19/02/2020
PHE's International Health Regulations (IHR) Strengthening Project is collaborating with the Fleming Fund in Nigeria to enhance national antimicrobial resistance (AMR) capacity and capability.
The Fleming Fund is a programme funded by UK Aid and managed by the Department of Health and Social Care to tackle AMR in low and middle-income countries around the world.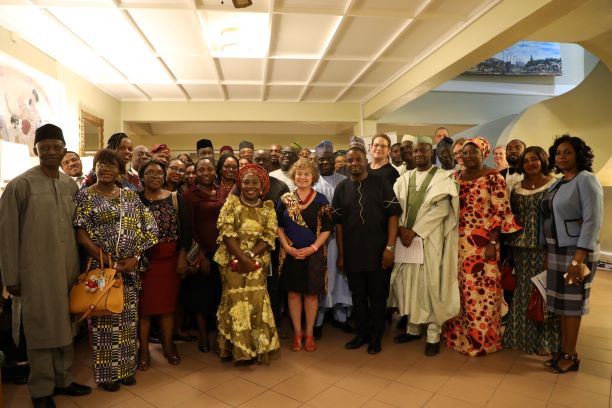 The UK government formally launched the £10.7 million partnership with Nigeria last week, aiming to improve public health surveillance systems, upgrade laboratory equipment, and to train technicians and scientists.
Olusola Aruna and Olubunmi Negedu-Momoh from the IHR Strengthening Project team attended the launch reception hosted by the British High Commissioner, Catriona Laing. Senior representatives from Nigeria Centre for Disease Control (NCDC) and the Federal Ministry of Health were also in attendance to celebrate greater scientific links between the UK and Nigeria.
Catriona Laing said:
"This work will build on and complement the long-standing UK Nigerian health partnership led by Department for International Development, and the work led by PHE on strengthening the International Health Regulations (2005) core capacities."
PHE also recently hosted colleagues from the NCDC and the University of Ibadan, as part of the Fleming Fund Professional Fellowship scheme. The fellowships help to develop skills, provide mentorship and offer opportunities for peer-to-peer knowledge sharing and learning. Each fellow is supported with the capability and network to solve problems and lead efforts to track and address AMR.
| | |
| --- | --- |
| Sola Aruna, Senior Public Health Advisor and Nigeria Country Lead – PHE IHR Strengthening Project | ​Catriona Laing, British High Commissioner to Nigeria and Olubunmi Negedu-Momoh, PHE Technical Adviser to the DG NCDC (NRL Management) – PHE IHR Strengthening Project |