10/06/2021
Reflections from the IHR Project's Country Lead for Ethiopia in his final month with the project.

I have been the Country Lead and Senior Public Health Advisor for PHE's International Health Regulations (IHR) Strengthening Project in Ethiopia for the past three years.
I arrived in May 2018 on a 2-year deployment and extended for an additional year. I will leave this role and PHE at the end of June 2021.
In Ethiopia, PHE is working in partnership with two peer public health agencies: the Ethiopian National Public Health Institute (EPHI), and the Africa Centre for Disease Control and Prevention (Africa CDC) based within the African Union's headquarters in Addis Ababa.
As the strategic lead within the country, an important role is to identify and build relationships with the key stakeholders on our shared public health agenda. PHE works with stakeholders within the government but also others including Africa CDC, WHO Country Office, US CDC, USAID, China CDC and other non-governmental organisations.
Promoting PHE as a credible and trusted partner is important and this is built upon the excellent work the visiting teams from across PHE deliver in country (the Centre for Radiation, Chemical and Environmental Hazards (CRCE), the Emergency Response Department (ERD), the National Infection Service (NIS), One Health and Workforce Development teams). It is the quality of that work that ultimately determines our success here and that is defined by the feedback we receive from our partners. To date, that feedback has been of commendation.
Raising PHE's visibility as an important contributor to the UK Government's collaborative cross-department approach in Ethiopia is also important part of this role. I was invited to lead the Global Health Security sub-shift as part of the work to implement the new approach to Africa in Ethiopia, which afforded me the opportunity to learn about the numerous programmes across UK Government departments that contribute significantly to Global Health Security whilst at the same time building closer working relations with colleagues from the UK's Foreign, Commonwealth and Development Office, Ministry of Defence and Department for International Trade. This support has continued into the newly developed UK Government Country Plan for Ethiopia.
The aim is having a more coherent and co-ordinated approach across the UK Government that builds capacity and capability within the existing health systems and strengthens a country's ability to prevent, detect and respond to any hazard to human health.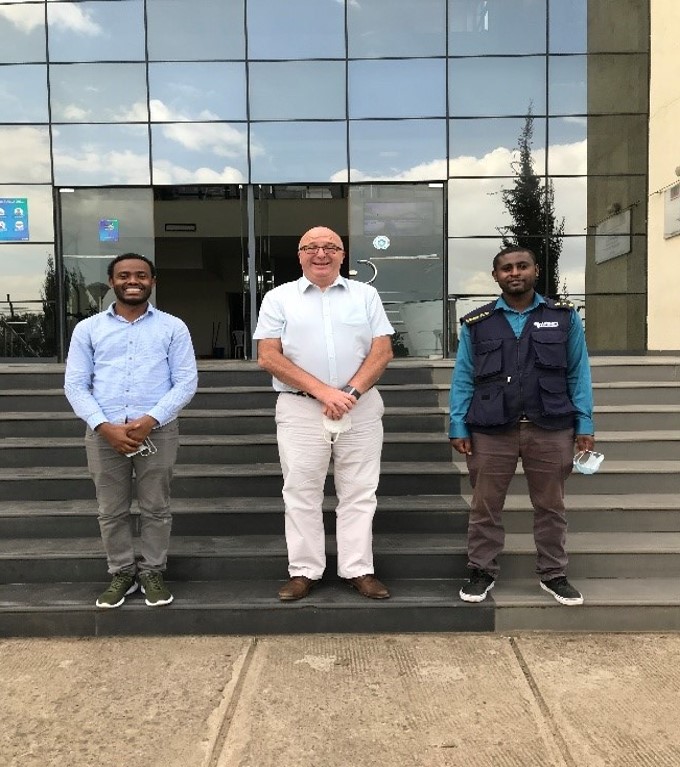 John Forde outside EPHI Training Centre with colleagues Shambel and Zewdu
What it means to be working on the IHR Strengthening Project in Ethiopia
The COVID-19 global pandemic impacted on our ability to fully deliver work plans. Despite this our delivery teams have been able to continue to offer support virtually and maintain the vital working relationships and links they built in the first 18 months of the project in Ethiopia.
PHE is playing a key role in supporting the Ethiopian government in increasing compliance with the International Health Regulations by building capacity and capability in its national public health institute, EPHI.
This peer to peer support is an important component of Global Health Security.
Strengthening the public health system at national level will support sustainable capacity building at regional and sub-regional level that will over time mean that the system is better able to prevent, detect and respond to public health threats.
The long-term plan for the IHR Project in Ethiopia will be influenced by how successful we are at delivering the current work plans. This will allow us to make a compelling case for future funding.
We have signed partnership agreements in place with both EPHI and Africa CDC that lays the foundation for establishing a lifelong and enduring relationship with our sister public health agencies.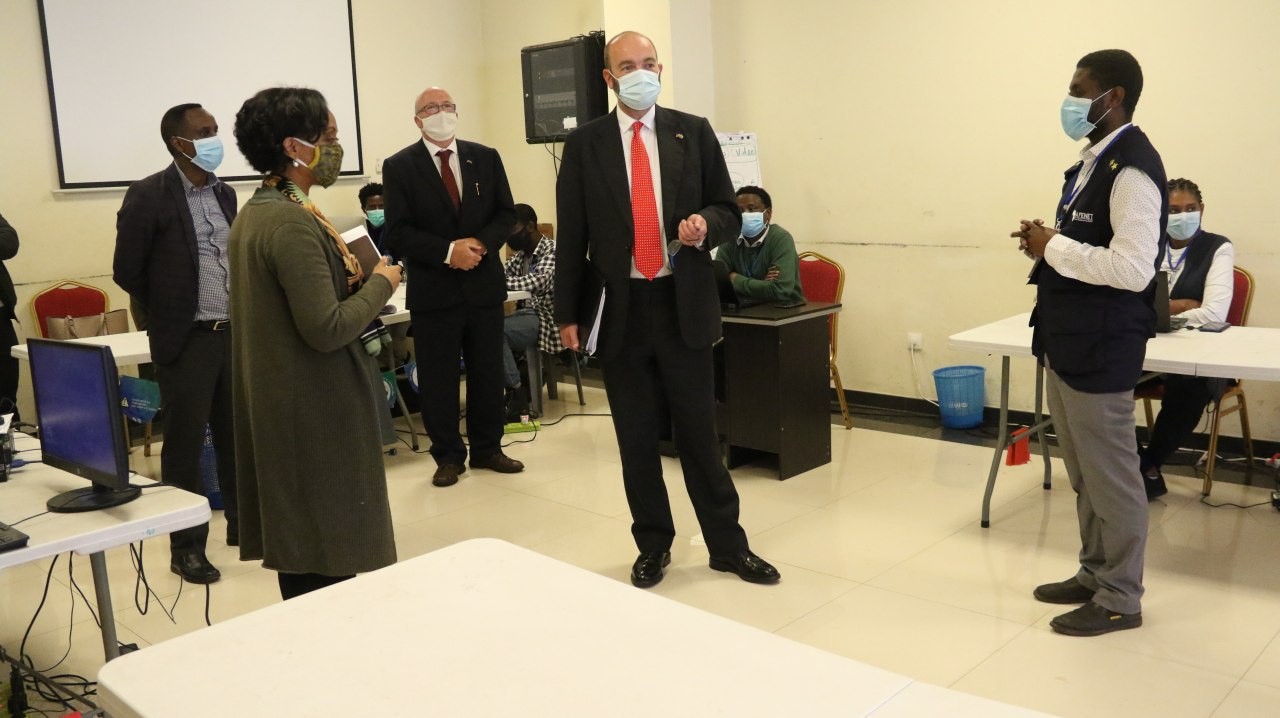 Visit of UK Minister of Africa, Mr James Duddridge with Dr Lia Tadesse, Ethiopia Minister of Health and John Forde
What has been achieved so far
The last three years (in spite of COVID-19) have been a fulfilling period to oversee the transition from high level plans to active work on the ground. Our delivery teams have supported in the following key areas, identified by EPHI for technical assistance:
ERD colleagues have contributed to capacity building for emergency response through delivering training on:
After Action Reviews
Incident Management
QGIS – a geographic information system (jointly with NIS)
Infectious Diseases (including surveillance and laboratories)
NIS colleagues have delivered:
Core data management training
QGIS – a geographic information system (jointly with ERD)
Enteric bacteriology lab capacity building
Biosafety and biosecurity lab capacity focus on Ebola virus disease preparedness and diagnosis
Chemical Incidents
CRCE colleagues have delivered:
A gap analysis of chemical environmental hazards and public health in Ethiopia, including the production of a template for wider use outside of Ethiopia
Chemical incident emergency response workshops, including a desk top exercise and hot debrief
Chemical Vulnerability Risk Analysis and Mapping (VRAM) workshops and stakeholder engagement meetings
Work is also in progress on One Health, Workforce Development and Leadership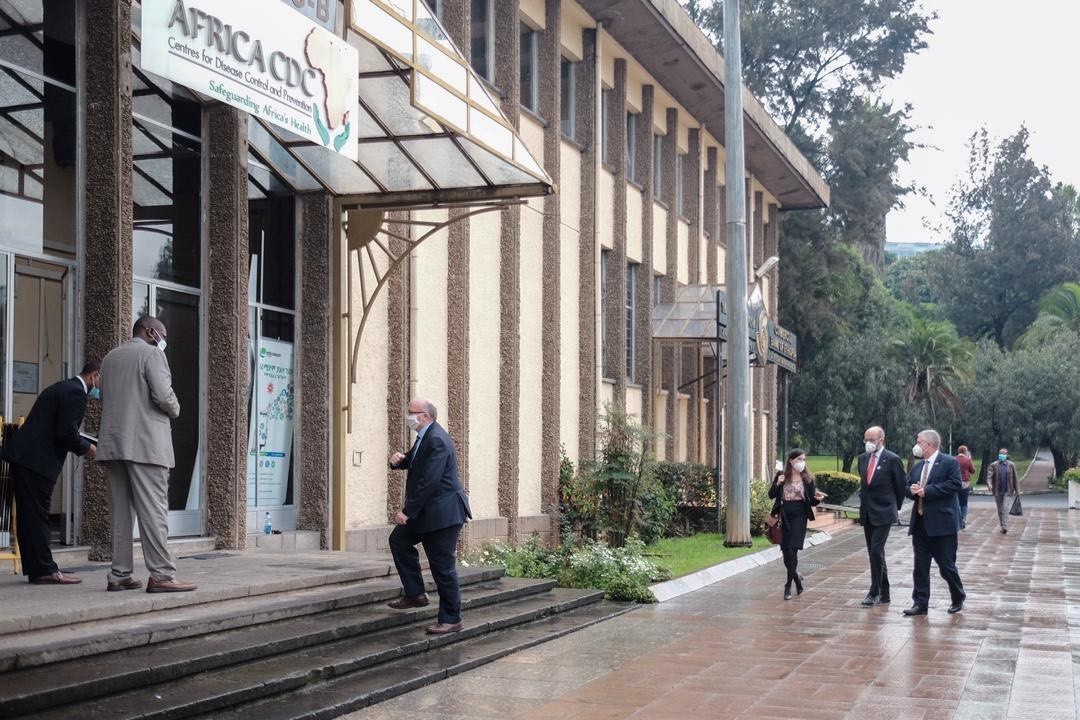 Africa CDC offices, Addis Ababa - Dr Ahmed Deputy Director and Dr Merawi of Africa CDC, greet John Forde and the ministerial delegation. The Minister for Africa is being accompanied by the UK Ambassador to Ethiopia Dr Alastair McPhail (right) and his Private Secretary Nicola Crissell (left).
What living in Ethiopia has been like
I arrived in Ethiopia in May 2018, it has been a genuine privilege to undertake this type of deployment overseas in a country as fascinating as Ethiopia.
We have been fortunate to travel and see much of this country: The Blue Nile Falls, The Simien Mountains, The rock hewn churches of Lalibela, the wonderful castles of Gondor, the Bale Mountains and the fantastic and unique wildlife.
There is a vibrant live music scene in Addis with talented musicians playing fantastic ethio-jazz at the African Jazz Centre and Fendika club. I have always loved listening and playing music as a way to relax and beat stress. I am a keen amateur drummer and was lucky enough to meet some like-minded musicians and we formed a blues and rock and roll band called 'Ishi Jambo'. Over the past couple of years we have taken our own brand of music into the small bars and clubs in Addis. It has been huge fun that culminated in a packed-out farewell gig in the Radisson Blu on my final weekend.
Of course, the people too make the place. I have made some very good friends here whom I will miss but will definitely keep in touch with.
The IHR Project continues to operate in Ethiopia and John's successor is currently being recruited.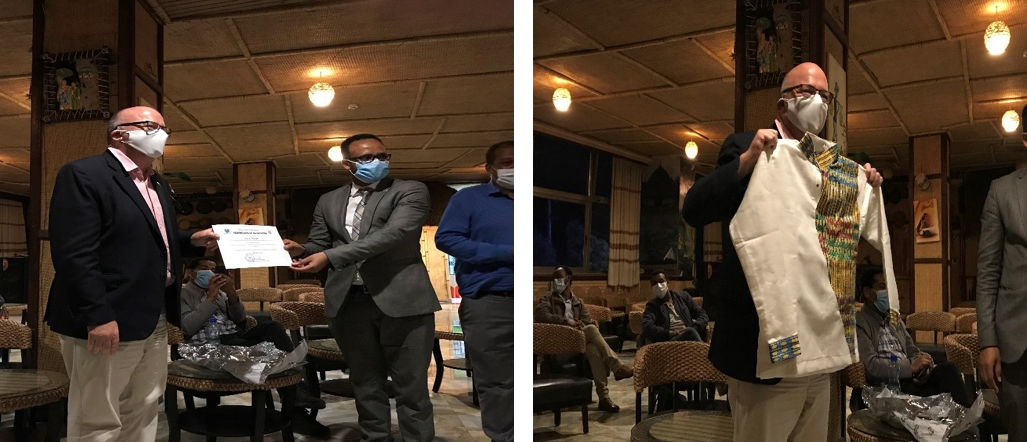 Presentation by Deputy Director General of EPHI, Achalew Abayneh to John Forde at EPHI Farewell Dinner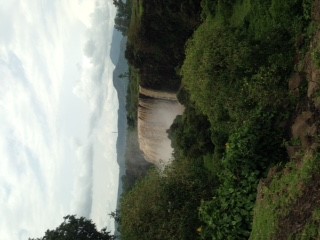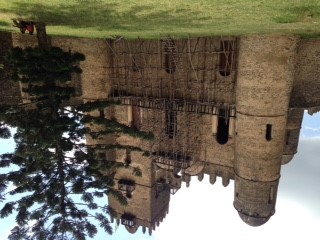 The Blue Nile Falls, Lake Tana (left), One of the Castles of Gondor (right)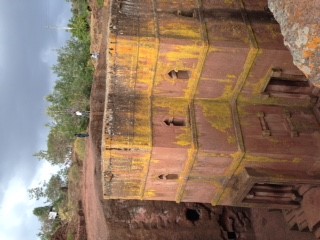 St Georgis Chuch, Lalibela (left), Simien Mountains (right)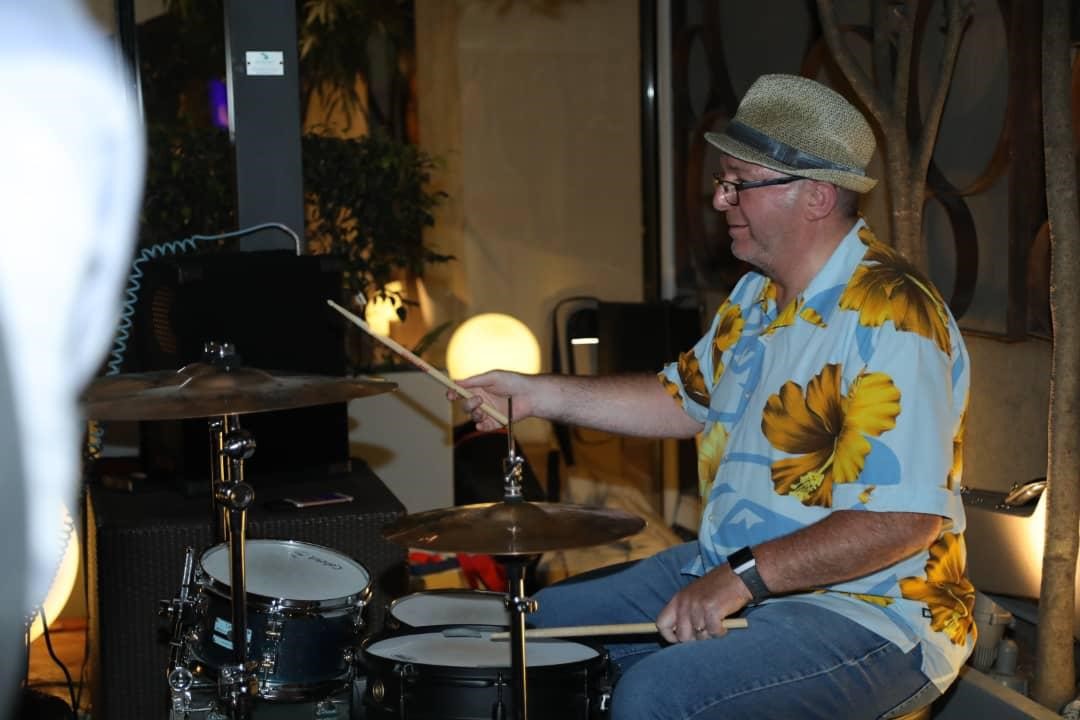 John Forde and his band, Ishi Jambo playing in Addis Ababa