UKHSA IHR Strengthening project laboratory team has been working in partnership with the Zambia Ministry of Health (MOH) to strengthen IHR capacity and sustainable public health networks at national and subnational level in Zambia. Two activities took place in February . Esther Musongole and Jumoke Sule attended a 3-day workshop with MOH colleagues to develop training material in laboratory audit and risk management for use in the MOH laboratory certification programme. This workshop ensured that training delivered to participants of the programme is standardised across the board.
The second activity was a two day annual review meeting of the Copperbelt Microbiology Team (CBMT) which was sponsored and supported by UKHSA. In February 2022, following a brief microbiology mentorship to a laboratory in the Copperbelt, the mentorship was extended to four additional laboratories and the CBMT was formed. The team has monthly virtual meetings and quarterly face to face meetings with training on topics they identify covering laboratory quality and safety, microbiology diagnostics and leadership. In addition the team has CBMT-led monthly operational meetings and formed audit, research and interlaboratory comparison sub-committees to drive their action plan
The annual review meeting took place to showcase the work done by the team as a result of the collaboration over the last 12 months. The meeting was attended by partners from Zambia Ministry of Health, Centre for Infectious Diseases Research Zambia (CIDZR) and Association of Public Health Laboratories (APHL) and by the IHR Strengthening Project MREL team who are undertaking a deep-dive of the impact of the collaboration. Key highlights were the relentless enthusiasm of the team who led the meeting and the opportunity for our partners to witness the work being done. The meeting also provided further opportunities for networking and collaboration with partners.
"Clearly a lot of work has gone into making this collaboration with MOH/CBMT a success. Our thanks go to MOH and lab heads for their support, our UKHSA teams in Zambia and UK and our funders for making this work possible."
Dr Jumoke Sule - Consultant Global Health Microbiologist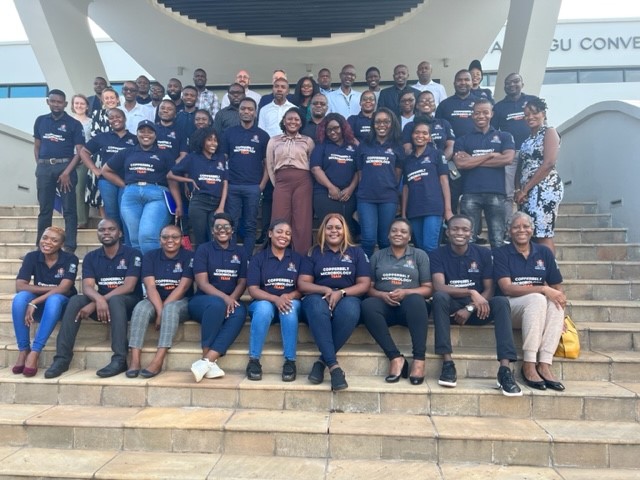 They also met with MOH and Zambia National Public Health Reference Laboratory colleagues to discuss workplans for the next financial year.
By Jumoke Sule on behalf of the UK and Zambia IHR Strengthening Project Lab Teams