16/03/2021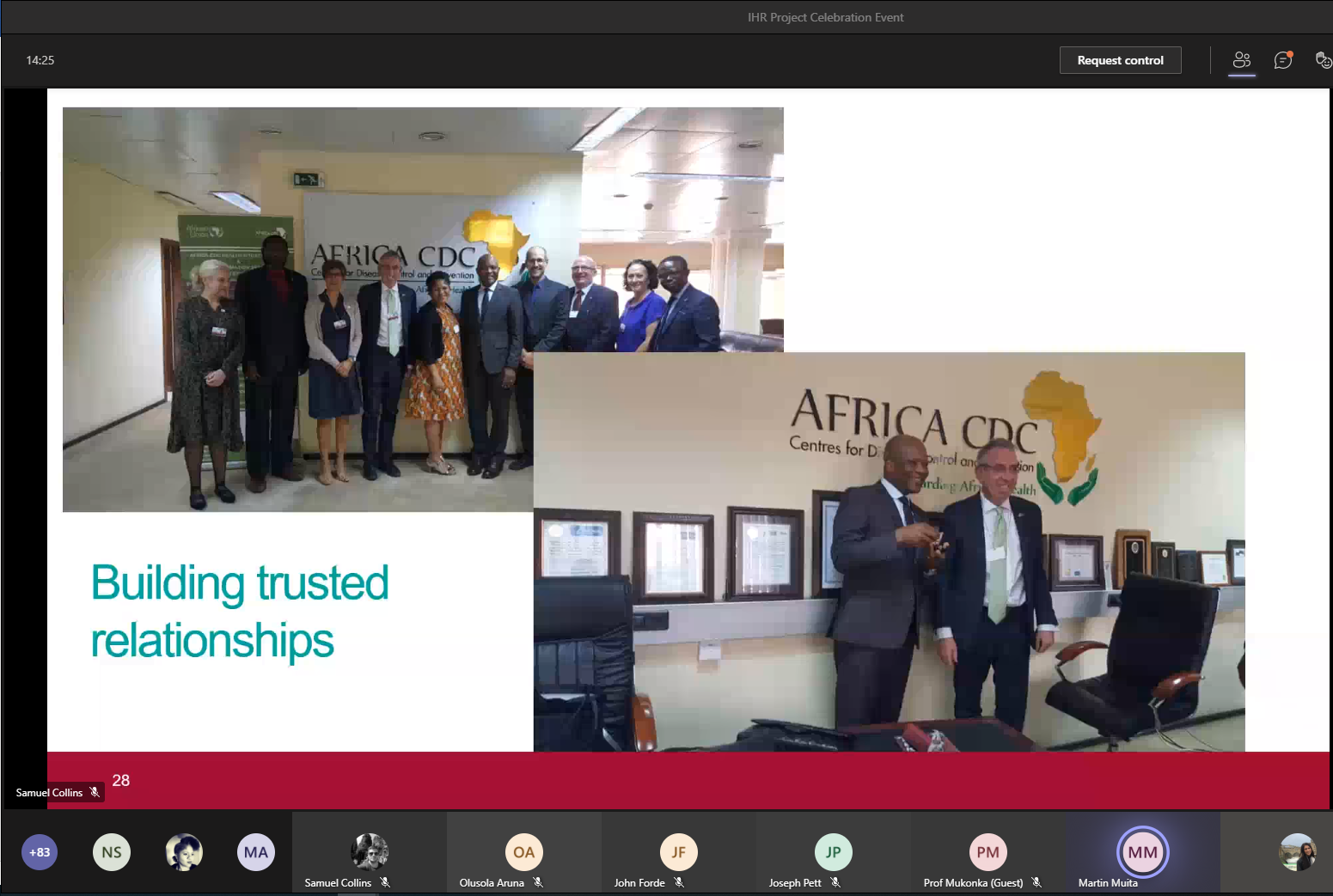 On Monday 15 March, the IHR Project team hosted a celebration event with partners and collaborators to share learning, successes and stories from the past five years, and to look forward to its next phase. The event was hosted on Microsoft Teams allowing attendance from over 100 colleagues from 19 collaborating organisations with guests joining from Ethiopia, Jordan, Nigeria, Pakistan, Zambia and the UK.
The virtual event began with a welcome from PHE's Director of Global Public Health, Professor Neil Squires and included stories and reflections from colleagues across PHE and stakeholders including Her Majesty's Ambassador to Ethiopia, Alastair McPhail, as well as colleagues from Resolve to Save Lives and the Eastern Mediterranean Public Health Network.
The event's keynote presentation from David Heymann, Professor of Infectious Disease Epidemiology at the London School of Hygiene and Tropical Medicine, was discussed 'The Future of the International Health Regulations after COVID-19'.
The celebration also included reflections from the IHR Project's partners including the Director of Zambia National Public Health Institute, Professor Victor Mukonka; the Director General of Nigeria Centre for Disease Control (NCDC), Dr Chikwe Ihekweazu; and the Chief Medical Officer of Sierra Leone, Dr Thomas Samba.
Throughout the event, colleagues were commended for adapting in innovative ways in response to international travel restrictions to continue to support their partners over the past 12 months. An example of this was presented by Nicholas Brooke from PHE's Centre for Radiation, Chemical and Environmental Hazards Events who with his team, successfully delivered an interactive distance training course to colleagues in the Myanmar National Poison Control Centre.
Another highlight from Innocent Okoli, NCDC Technical Advisor, outlined the impact of training and support he received from PHE on Nigeria's public health laboratory network during the COVID-19 pandemic.
The event concluded with a forward look from IHR Project Lead, Anne Wilson and closing remarks were given by the Anna Wechsberg, Department of Health and Social Care's International Director who praised the IHR Project's commitment to partnership working and planning to ensure long-term sustainable impact.
The IHR Project is proud of the strong partnerships and achievements gained over the past five years and is looking forward to the next phase of the project from 2021 onwards.