Africa CDC aims to strengthen the capacity and capability of Africa's public health institutes to detect and respond quickly and effectively to disease threats and outbreaks, based on data-driven interventions and programmes.
In this regard, Africa CDC has drafted a Terms of Reference to organize Global Burden of Disease (GBD) training workshop for the five African Union Regions; the training Workshop for East African Member States was conducted successfully from the 5th to 9th, September 2022. Taking the lessons learnt from this, Africa CDC conducted a further Training Workshop for the Western African member states from the 14th to 18th of November 2022 Lomé, Togo. The training was provided in collaboration with Institute for Health Metrics and Evaluation (IHME), and Dr. Tiruneh Baye, IHR Strengthening Project Workforce Advisor for Africa CDC, was heavily involved in the organization as well as delivery of this training.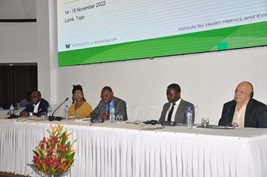 The objectives of the workshop included
Creating the overall understanding of Africa burden of diseases by AU regions and Member States from GBD study and to strengthen Africa CDC and NPHIs capacity to understand, analyse, and utilize burden of disease estimates in their work.
Highlights Africa CDC's future direction on quality health data availability and accessibility in the continent, jointly produce Africa burden of disease with IHME, and translate relevant findings to policy and practice.
Share best experience on national data management and metrics system development that include establishing national data repository system, data analytic and health metrics systems, and translating evidence to policy and practice for African Union Member States.
Following the training, the participants stated that they have gained better understanding of how to use GBD data to make decisions. In addition, most participants expressed an interest to work with Africa CDC to identify available data points in their country to improve data driven decision making.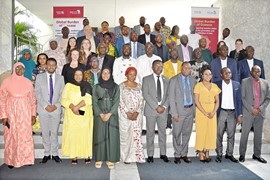 Dr Tiruneh Baye